Tank and the Bangas is a Grammy Award-nominated funk and soul band based in New Orleans, Louisiana. The band's members met back in 2011 at a New Orleans open mic show called Liberation Lounge at the now-closed Blackstar Cafe and Books.
The band's debut album, Thinktank, was released in 2013. Naming Tank and the Bangas the 2017 winner of NPR's Tiny Desk Contest for their song "Quick", NPR co-host of All Songs Considered Bob Boilen, "What won me over about the band's performance of 'Quick' were the interactions among lead singer Tarriona 'Tank' Ball and her bandmates, and the way they seemed to surprise one another.
It all felt so organic and on-the-spot." Juror Trey Anastasio of Phish said, "I immediately loved this...Tank is a force of nature, just full of joy -- and her band is killing in the background." The story of the evolution of Tank's voice was covered in an episode of NPR's World Cafe show for essential and emerging artists.
The sophomore studio album, Green Balloon, was released in 2019. They were nominated in the Best New Artist category at the 62nd Grammy Awards.
Photos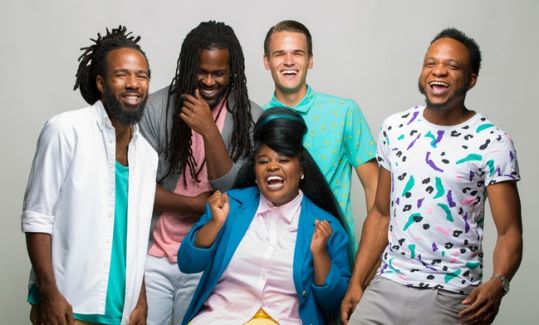 Tank and the Bangas performs soul, r&b, hip-hop music and can be booked for (private) corporate events, personal appearances, or other music performances. The estimated booking fee range to book Tank and the Bangas for your event, Please Contact. Tank and the Bangas has more than 26.3K listeners worldwide and really knows how to entertain your audience. Similar artists are Esperanza Spalding, Janelle Monáe, Jill Scott, Chloe x Halle . Contact AAE Music agency for ratings, reviews, videos and information on scheduling Tank and the Bangas for an upcoming event.
This website is a resource for event professionals and strives to provide the most comprehensive catalog of popular musicians and bands to consider for performances at corporate events, fundraising galas, or university events. A listing or profile on this website does not imply an agency affiliation or endorsement by the talent.
All American Entertainment (AAE) exclusively represents the interests of talent buyers, and does not claim to be the agency or management for any artist or celebrity on this site. AAE Music is a talent booking agency for paid events only. We do not handle requests for donation of time or media requests for interviews, and cannot provide celebrity contact information.
If you are the talent, and wish to request removal from this catalog or report an issue with your profile, please click here.