Los Angeles-based electronic trio Cheat Codes debuted in 2015 with their single "Visions," a floor-filling, radio-ready bite of house in a vein similar to Avicii and Swedish House Mafia. The three members of the group -- Matthew Russell, Trevor Dahl, and Kevin Ford -- each have deep roots in LA, working on individual projects before joining forces for Cheat Codes (Dahl once performed as singer/songwriter Pluginstereo).
Their different backgrounds helped inform Cheat Codes' stylistically varied sound, which can range from warm pop to outright big house bangers. After the release of "Visions," they quickly followed with the tropical-tinged "Don't Say No" (featuring Dresses), "Senses" (featuring Lostboycrow), and "Adventure" (featuring Evan Wartner).
As they gained exposure on social media and spins on streaming services (over 55 million on Spotify, plus 15 million on YouTube), they joined the Chainsmokers on tour. Successive singles continued to drop into 2016, when they unveiled "Sex" (featuring Kris Kross Amsterdam), which borrowed the sentiment and chorus from the Salt-N- Pepa classic "Let's Talk About Sex".
Their 2017 single "No Promises," which featured Demi Lovato, peaked within the top 40 of the US, UK and Australian charts. It was also certified platinum by the Record Industry Association of America (RIAA).
Photos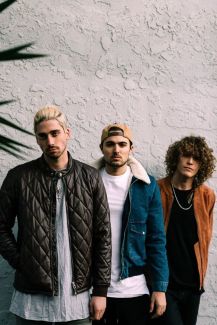 Cheat Codes performs electronic, dance music and can be booked for (private) corporate events, personal appearances, or other music performances. The estimated booking fee range to book Cheat Codes for your event, Please Contact. Cheat Codes has more than 341.2K listeners worldwide and really knows how to entertain your audience. Similar artists are Kygo, Afrojack, Martin Garrix . Contact AAE Music agency for ratings, reviews, videos and information on scheduling Cheat Codes for an upcoming event.
This website is a resource for event professionals and strives to provide the most comprehensive catalog of popular musicians and bands to consider for performances at corporate events, fundraising galas, or university events. A listing or profile on this website does not imply an agency affiliation or endorsement by the talent.
All American Entertainment (AAE) exclusively represents the interests of talent buyers, and does not claim to be the agency or management for any artist or celebrity on this site. AAE Music is a talent booking agency for paid events only. We do not handle requests for donation of time or media requests for interviews, and cannot provide celebrity contact information.
If you are the talent, and wish to request removal from this catalog or report an issue with your profile, please click here.